Templeton Warns of Market 'Insanity'
Christopher Ruddy
NewsMax.com
Wednesday, March 21, 2001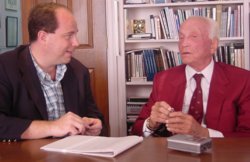 Christopher Ruddy interviews Sir John Templeton.
NEWSMAX.com-NASSAU, Bahamas – Sir John Templeton, one of the world's most respected investment advisers, says that the downfall in the stock market over the past year is bigger than the crash of 1929, and he doesn't expect a recovery anytime soon.
In an interview last weekend with NewsMax.com, Templeton said the run-up in market was "the biggest financial insanity ever in any nation in history" and suggested that President Bush's tax cut may be a remedy for the downturn.
Templeton is no ordinary stock picker. The founder of the Templeton Funds, at 88 he brings almost seven decades of experience to his investment philosophy. In the early 1990s the New York Times called him the "dean of international investing."
Since he sold his mutual funds in 1992, Templeton has focused on philanthropy, the awarding each year of his Templeton Prize for Progress in Religion, and his quest for learning more about spirituality.
He continues to manage more than $800 million in his foundation endowments, and is still widely sought out for his keen market insights.
Templeton recalls his uncanny forecasting through the years on PBS's "Wall Street Week" with Louis Rukeyser.
"I was invited to appear on Louis Rukeyser's program in 1982 when the Dow Jones was below 1,000. I said chances were good that within 10 years the Dow Jones might march above 3,000.
"So then when that happened, he called me and said, 'What next?'
"I said, 'Well now, in the next 10 years the Dow is going to rise above 6,000.'
"Then when that happened, he called me back and said, 'What now?'
"I said, 'Well, in the next 10 years the Dow is going to rise above 10,000.' Which it did. Then I stopped."

Templeton said he is warning investors that the recent "technology bubble ... was far bigger than any previous bubble of any nation ever. … Now is not the time to buy common stocks."
In fact, Templeton says, he is encouraging those who will listen to stay out of the stock market almost completely and invest in long-term uncallable bonds.
"I really remember 1929. It was fascinating. ... I like to keep it straight to arithmetic. How high were the prices [in 1929] in relation to earnings? The maximum was 29 times earnings. Now, in the recent bubble, the Nasdaq went up to 300 times earnings and is still over 100 times earnings, even now."
Though he believes the market will eventually recover – and the Dow may hit more than 1,000,000 by the end of this century – it may take years.
Using an old rule of thumb employed by professional investors, Templeton said bear markets often last half as long as the preceding bull market.
He counts the bull market as having begun in 1982 and having ended last year – an 18-year run – and wonders out loud if we may be witnessing "maybe a nine-year bear market."
Templeton is quick to say with a smile that he has "never been that smart" to predict the duration of a bear market.
He believes the Bush tax cut could provide significant help to the economy and the market.
"Cutting taxes is always magic to stimulate an economy," he said, adding that Bush's reduction is too small. "It should be more," he said.
Templeton also likes Bush's idea to invest some Social Security funds in the stock market. Had the system begun with that idea, he suggests, the money in Social Security trust funds would be "enormous."
He believes such a change would dramatically change the "human mentality about business."
"If human beings thought their future had been dependent upon businesses, they would then vote in favor of business."
Reproduced with the permission of NewsMax.com. All rights reserved.
back to TBONDS.com